Central bankers suddenly love blockchain
Here's why
Tuesday offered the narrative drama of a climate-change showdown between a sitting U.S. president and a Swedish teenager. Setting the tone for Wednesday was a private breakfast between the chieftains of Big Tech and Donald, Ivanka and an assortment of top government officials. Is Real Davos actually weirder than Crypto Davos?
The heads of the biggest tech companies have a lot of lobbying to do on the sidelines of the WEF, with regulators and politicians at the Congress Centre talking about everything from a "Facebook tax" to antitrust measures. That's one of the upsides of the decentralized web: You can probably avoid awkward breakfasts with bigwig politicians.
Signaling the Davos crowd's increasing comfort with digital money, the WEF released a toolkit Wednesday for central banks looking to mint their own digital currencies. Meanwhile, Thailand positioned itself as an early mover on the CBDC front.
Touching on both these developments, CoinDesk published an in-depth piece on the surveillance implications of central bankers' sudden embrace of digital money. "The number one use-case of blockchain technology promoted by the government is data sharing," said one Chinese blockchain entrepreneur.
Today's Forecast: The warm spell continues. 🌞
For Thursday, a high of 38°F (4°C), low of 29°F (-2°C). Little chance of precipitation. Sunset at 17:12 CET.
Don't Miss…
WEF Sessions We're Watching* Thursday: 
09.15 - 10.30 Deploying Blockchain for Good
*Not actually watching because for some reason it's closed to the press and not live-streamed. This session features BitPesa CEO Elizabeth Rossiello, WEF blockchain lead Sheila Warren, ethereum thinker Glen Weyl and NYU professor Amy Webb.
16.00 - 16.45 Challenging the Dominance of the Dollar
International Monetary Fund Chief Economist Gita Gopinath has been increasingly vocal on CBDCs lately. She'll be joined by the finance ministers of Brazil and Portugal in a spicily titled session.
17.15 - 18.00 Creating a Credible and Trusted Digital Currency
The elephant in the room finally gets its moment in the spotlight: Calibra chief David Marcus was a late addition to this one. He shares the session with a European Commission economist, the chairman of Singapore's central bank, MIT's Neha Narula and the innovation chief of the Bank for International Settlements (BIS).
Here are the three crypto-related events worth knowing about for Thursday, Jan. 23:
The Global Blockchain Business Council is a partner of CoinDesk Confidential: Davos. Visit us at the GBBC Lounge at Hotel Europe on the Promenade.
1️⃣The CV Summit runs from 10:00-18:00 CET at the InterContinental Hotel, boasting a decent mix of local and global crypto personalities. Nouriel "Dr. Doom" Roubini will perform his signature "Why Bitcoin Is the Mother of All Scams" talk. He'll then join a panel with Monero's Fluffypony and CoinDesk's Michael J. Casey, who, rumor has it, will confront Nouriel about blocking him on Twitter in 2018. The fireworks are scheduled to begin at 17:00ish.
2️⃣Ripple CEO Brad Garlinghouse is working the Davos circuit hard (he was spotted with his entourage on the Promenade early Wednesday morning). At 14:00 CET, he'll keep the momentum going with a sponsored event with the Wall Street Journal in the Belvedere Hotel called "Changing the Finance Industry From Within."
3️⃣After a two-day hiatus, the LATOKEN Blockchain Economic Forum resumes at 15:00 CET at the Guggerbach retirement home. The program features a Don Tapscott keynote, a talk from Catalonian Digital Policy Minister Jordi Puigneró i Ferrer and several sessions on CBDCs and the evolution of payment systems.
Scene Report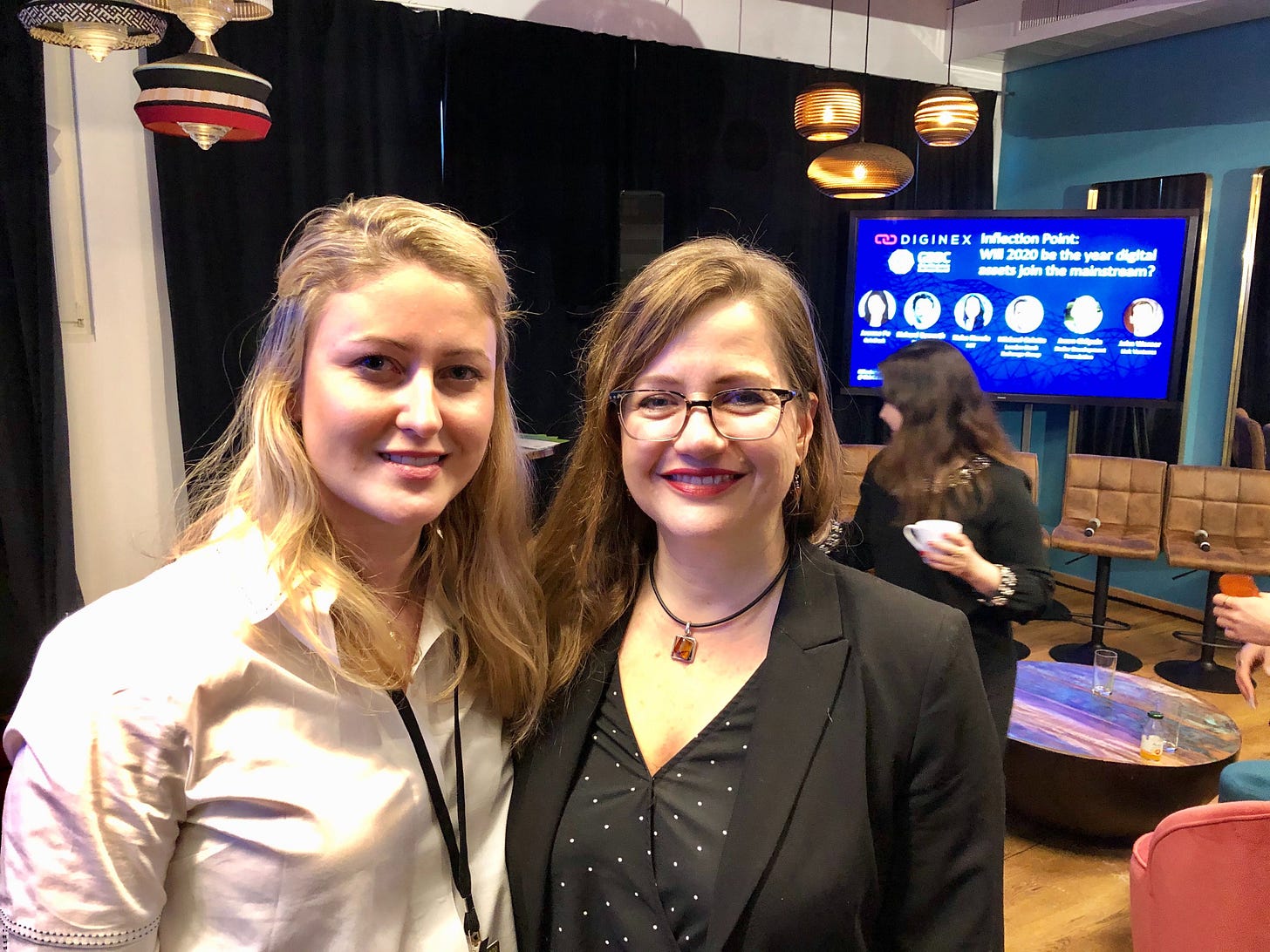 (Bloccelerate CEO Kate Mitselmakher and Kaleido founder Sophia Lopez)
Davos ain't that great for deals, said venture capitalist Kate Mitselmakher. "A lot of talking but not a lot of doing," the Bloccelerate CEO said of the standard fare at WEF side events.
Still, the three-time Davos attendee said things are trending up. 
"I see the quality actually going up in terms of blockchain," Mitselmakher told CoinDesk. "There's less hype and more meaningful interaction and meaningful companies."
We caught up with her at the GBBC Lounge as she was taking a meeting with enterprise-minded ethereum startup Kaleido. Of Kaleido founder Sophia Lopez, Mitselmakher had nothing but praise. "Highest quality startup I've met in Davos in three years," she said.
---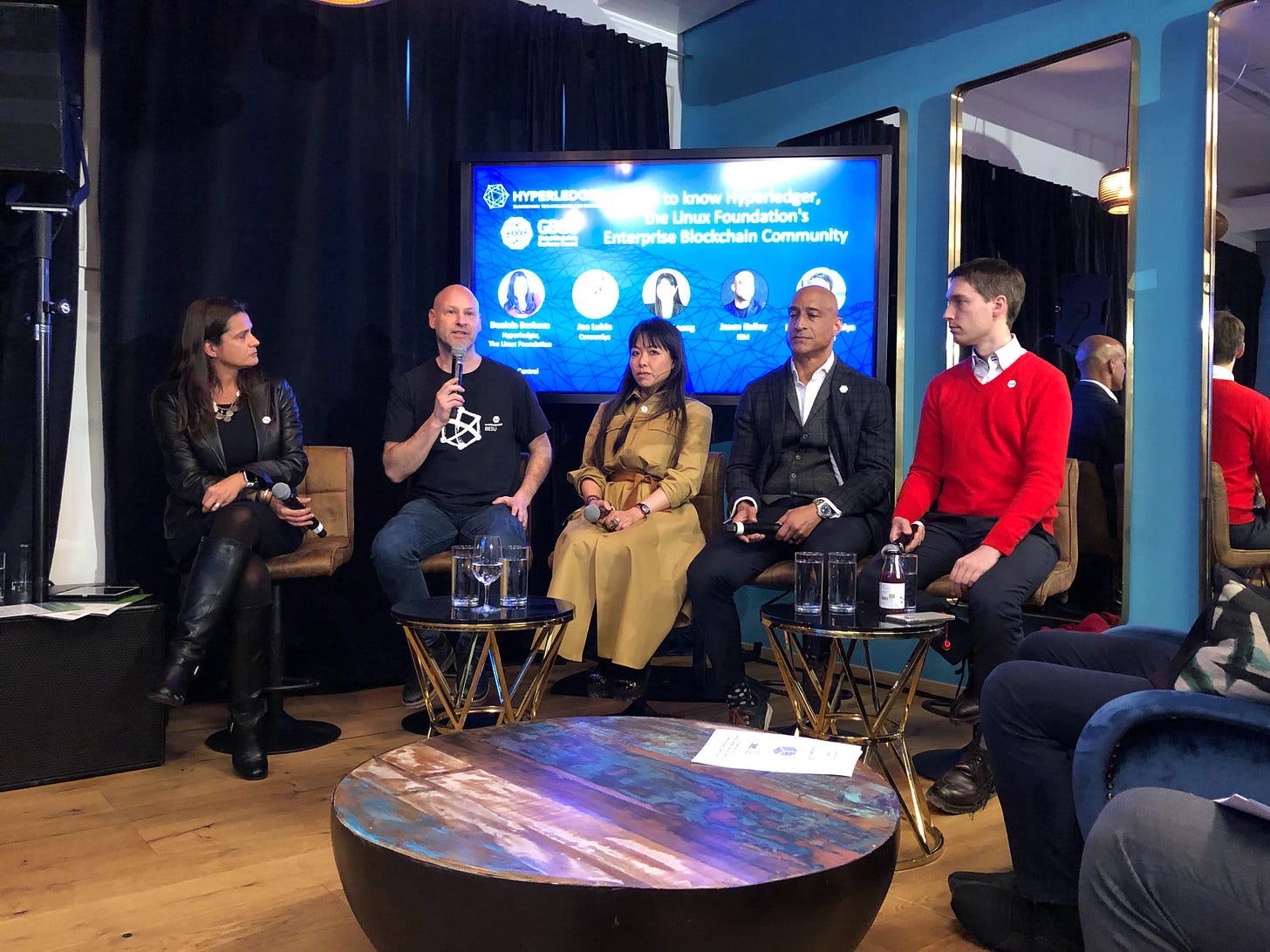 (Left to right: Hyperledger's Daniela Barbosa, ConsenSys' Joe Lubin, Accenture's Christine Leong, IBM's Jason Kelley and Soramitsu's Makoto Takemiya)
ConsenSys founder Joe Lubin took a few minutes between meetings Wednesday to reflect on his three-year streak of Davos visits.
"Year two it was feeling like it was establishing itself as a fixture," the ethereum co-founder told CoinDesk. "And this year it seems pretty routine. Blockchain and cryptocurrency technology is being assimilated into the minds" of the Davos set, he said.
On a GBBC panel later in the day, Lubin teased a "watershed" announcement involving big partners and zero-knowledge proofs. Expect to know more in two or three weeks, he offered.
---
What's China-born crypto exchange Huobi doing in Davos?
"It gives us a chance to talk to people from traditional finance," Ciara Sun, Houbi's newly promoted head of global business, told CoinDesk.
The former Boston Consulting Group staffer is helming a new business unit in charge of courting institutional investors and high-net-worth individuals. 
Huobi itself also has a front-row seat to China's recent prioritization of blockchain, having organized a conference just last month with the backing of a Chinese provincial government.
Related Viewing
Reporter Leigh Cuen walked the Promenade with Harry Halpin, the privacy-minded CEO of Nym Technologies. Halpin said he's unimpressed with the WEF and that the Davos "social club" is unlikely to fix the world's larger economic problems:
Seen (and Heard) on the Promenade 👀
Vignettes from the day's scrum.
🚨Pavel Durov won't let a recent 18-hour SEC deposition spoil a beautiful Alpine winter's day:
Blockchain Revolution author Don Tapscott was captured capably covering the Doobie Brothers in a duet with legendary Davos piano man Barry Colson:
(Short-lived Trump comms director Anthony Scaramucci was also there, but not on backing vocals...)
An extremely rare formal-wear sighting: Joe Lubin, ConsenSys founder and king of T-shirt chic, in a tuxedo.
The word "bitcoin" hasn't been heard once in the halls of the Congress Centre by roving reporter Leigh Cuen – although "blockchain" remains a popular, if poorly understood, buzzword. 
"They talk about it like A.I., a vague term they're sure is a big deal," Cuen said of her inadvertently eavesdropped conversations. 
A note on how far we've come: "It was literally a whorehouse," one Davos veteran said of the allegedly escort-packed Crypto HQ lounge at the 2018 edition.
Thought Leaderboard
We're handing out gongs to the brainiest crypto thought leaders at Davos this year. We'll be tracking the usual suspects' panel appearances, briefings and media spots. Email me at zack@coindesk.com if you've noticed someone's overwhelming brilliance…
At the halfway point of the race, where do things stand? Remember, we're counting St. Moritz as well:
🥇Ex-CFTC chair Chris Giancarlo leads the way with five appearances.
🥈One appearance down is CoinDesk's Michael J. Casey who retains his silver.
In third place we have a plethora of names with three appearances apiece, starting with:
🥉ConsenSys boss Joe Lubin
🥉PwC's Henri Arslanian (who lost his silver from yesterday)
🥉Former Taiwanese "Crypto Congressman" Jason Hsu
🥉MIT's Neha Narula
🥉Libra Association's Dante Disparte
🥉Ledger's Pascal Gauthier. 
Two days left. Can Crypto Dad keep up this punishing pace???
Who Won Davos Crypto Twitter?
This parody account is driving innovation through the revolutionary distributed-ledger technology underlying bitcoin:
Media Diet
Tim Apple, err… Cook, had breakfast with President Donald Trump today, along with fellow titans of tech, Satya Microsoft and Marc Salesforce.com. Here's Politico with the full guest-list and Apple Insider with the Cupertino take. 
The Brits' so-called "Facebook tax" might draw return fire from the U.S. after American treasury secretary Steve Mnuchin hinted at retaliatory tariffs during a Davos panel appearance with U.K. chancellor Sajid Javid. Oscar Williams-Grut reports for Yahoo Finance UK.  
The threat of a world cleaved into two technological systems looms, says Huawei CEO Ren Zhengfei, although he doesn't think things will go that far. Ina Fried writes for Axios about the trade and technology wars raging behind the scenes.
Office of the Day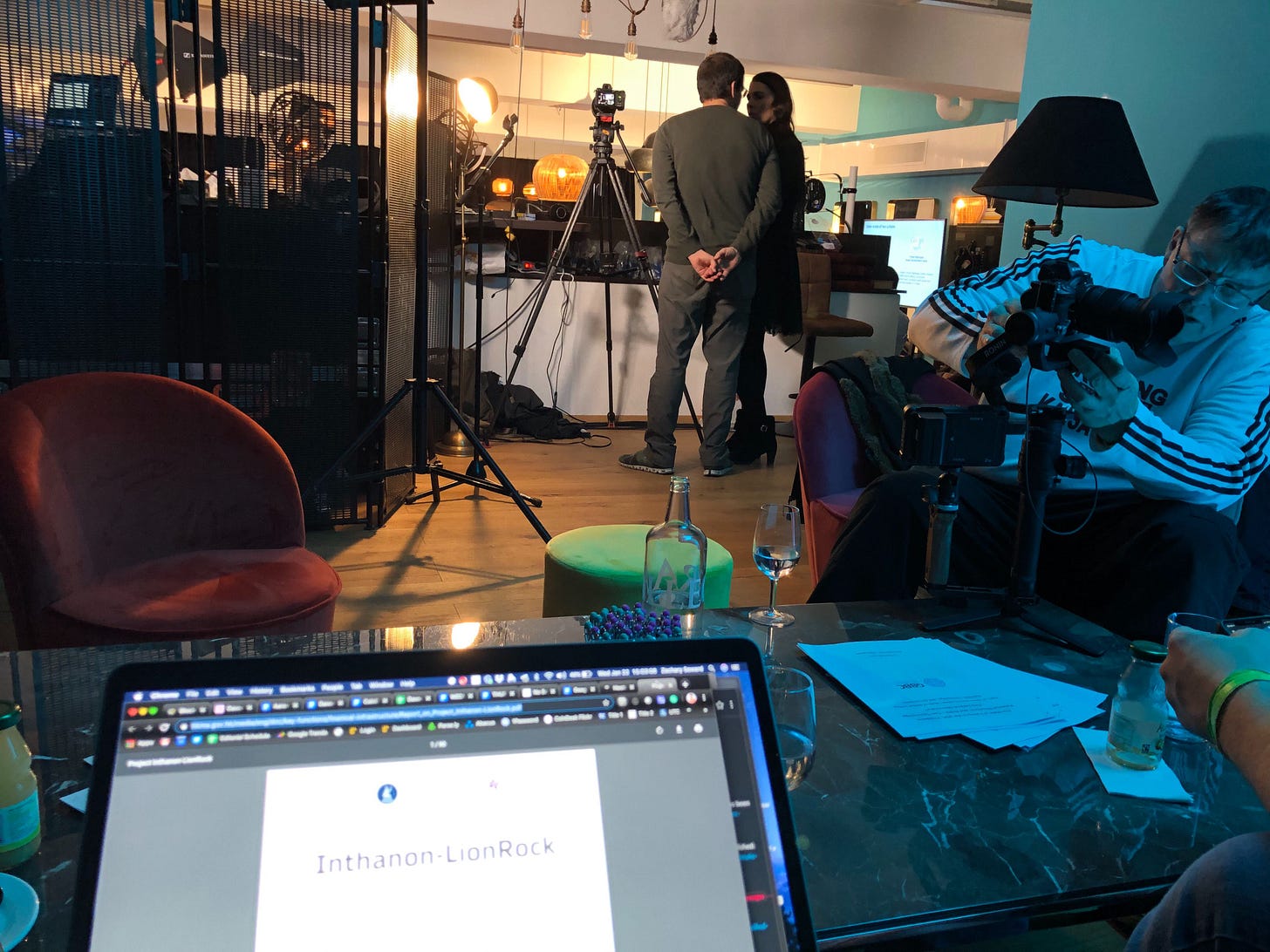 Lurking in the back of the GBBC Lounge with assorted A/V folks. 🤓
📍Pin-Drop
Find CoinDesk today at…
Catch us at the CV Summit, where Michael Casey will be moderating a session at 17:10 CET with Nouriel Roubini, Ricardo Spagni, Brittany Kaiser and Nathan Kaiser of the Cardano Foundation. 
Then we'll be rocking out to former Guns N' Roses drummer Matt Sorum, who plays the GBBC Lounge at 21:00 CET. Oh where do we go now? 🤘
Contact Us
Here in the mountains with a hot tip that simply must be shared? Did you miss seeing Tapscott jamming with Barry and have a request that would assuage your FOMO?
Get in touch: zack@coindesk.com
Till tomorrow, 
– Zack "More Indian Food Please" Seward