Davos is over…
...But the race for global money has just begun
Night fell on Thursday and travel plans immediately became the hot topic on the Promenade. Lounge waitstaff bade each other farewell (until Cannes, at least). Attendees weighed their party options. The thoughts had been thought; the leading had been led.
A half day of programming on Friday brings a quiet end to the 50th annual meeting of the World Economic Forum. It also marks the end of this newsletter, which, let's be real, was pop-up perfection.
Calibra chief David Marcus took the WEF stage Thursday but was noncommittal about Libra's launch date. Still, the panel sharply framed the tensions behind an emerging global competition over the future of money.
So, what did we learn about crypto's place among the Davos elite in the year 2020? "Crypto" and "bitcoin" are still dirty words but "blockchain" – its neutered cousin – has been fully assimilated. Watch the video for this and two more takeaways from our week at the WEF:
Today's Forecast: Downright balmy. "It feels like spring," one local shopkeeper told CoinDesk. 🥵
For Friday, a high of 45°F (7°C), low of 30°F (-1°C). Sunny skies, gentle breezes. Sunset at 17:14 CET.
Don't Miss…
WEF Sessions We're Watching Friday:
10.00 - 10.30 Blockchain at Scale ❌
An earlier version of the WEF agenda had this (no speakers were listed) and we were looking forward to it – but alas, it is no longer there.
10.30 - 11.15 The Centrality of Central Banks
A pair of central bankers (France, Netherlands) are on this one. Will they speak to the ways crypto challenges the central bank business model? You'll just have to tune in to find out.
11.30 - 12.30 Global Economic Outlook
A power sextet of national and supra-national finance chiefs representing the IMF, the European Central Bank, Japan, Germany, the U.S. and the top Chinese financial think-tank will ponder this all-important question.
Here are the three crypto-related events worth knowing about for Friday, Jan. 24:
The Global Blockchain Business Council is a partner of CoinDesk Confidential: Davos. We hope you had a good time with us at the GBBC Lounge at Hotel Europe on the Promenade this year!
1️⃣ Go home.
2️⃣ Please go home.
3️⃣ Oh, alright, if you really need a blockchain fix, here's one for the road. We don't know anything about it, but the Silicon Valley Blockchain Society's Friday "Salon" seems... intriguing? The organizer does say the closing party will be "EPIC."
4️⃣ ...Fine! If you're really desperate for a networking hit there's the LATOKEN drinks thing starting at 18:00 CET. But that's it. Really.
Scene Report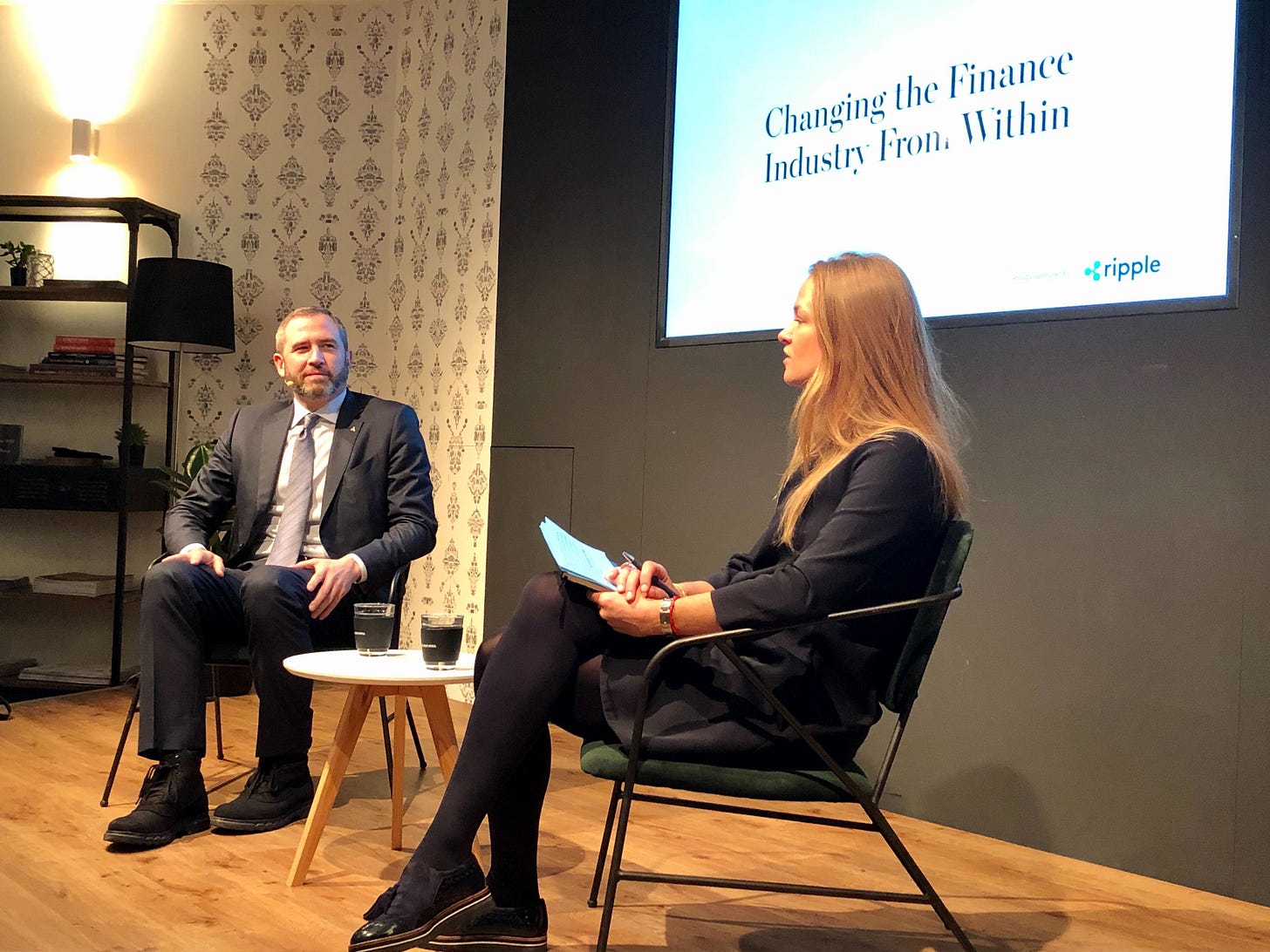 (Ripple CEO Brad Garlinghouse with Wall Street Journal Editorial Director of Innovation Phillipa Leighton-Jones)
Ripple CEO Brad Garlinghouse disclosed two bits of news Thursday:
His cross-border payments company has been in communication with the U.S. Securities and Exchange Commission (SEC) about the regulatory status of the cryptocurrency XRP.

A Ripple initial public offering is seen as the "natural evolution for the company," perhaps even in the next 12 months.
It was the first time those things were revealed, according to a source with direct knowledge of the situation.
Garlinghouse spoke at a Ripple-sponsored session at the Wall Street Journal lounge, also sharing that he "met with several central banks" in Davos.
It's boom times at Ripple, apparently. The San Francisco-based startup, which is working in concert with the financial services industry to rewire the world's cross-border payments system, recently raised $200 million at an eye-popping $10 billion valuation.
---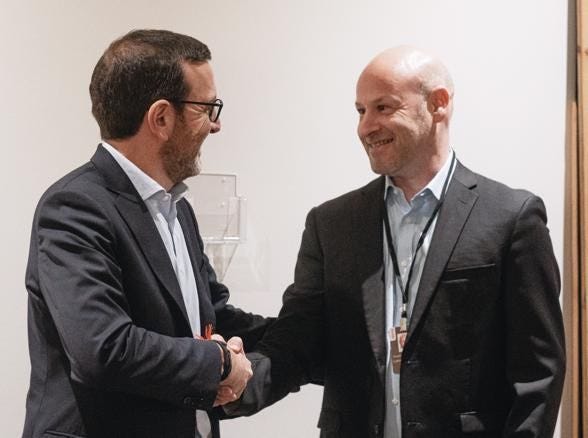 (ConsenSys founder Joe Lubin with Covantis advisor Stefano Rettore, photo courtesy of ConsenSys)
ConsenSys announced a new partnership with Covantis, a trade-finance consortium with some of the biggest names in commercial agriculture.
ConsenSys founder Joe Lubin confirmed to CoinDesk it was the ethereum venture studio's first agricultural supply-chain project.
"This platform is evidence that blockchain technology has started to deliver on its promise of unlocking value through collaboration and removal of information silos within and across industries," Lubin said in a statement.
Covantis is a blockchain initiative formed in October 2018 by farming giants ADM, Bunge, Cargill, Louis Dreyfus Company and Glencore Agriculture. Who said blockchain was all about hype??
---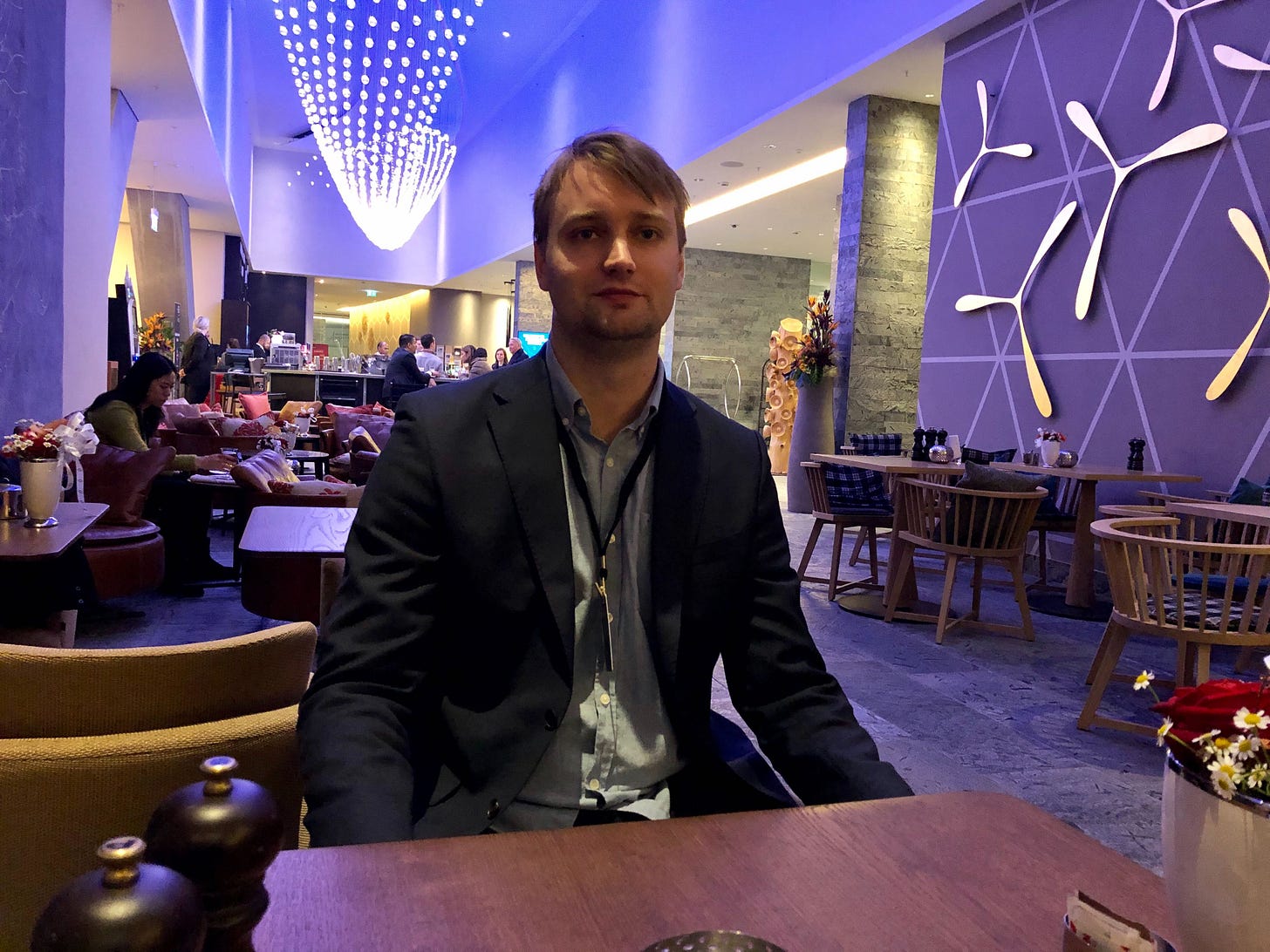 (MakerDAO Foundation CEO Rune Christensen at the InterContinental Hotel Davos)
MakerDAO Foundation CEO Rune Christensen said his first year at Davos has been "overwhelming."
The founder of the leading decentralized finance (DeFi) platform was at the WEF looking to get "beyond the crypto bubble," Christensen told CoinDesk on the sidelines of the CV Summit at the InterContinental Hotel.
"The main thing we're trying to get out of it is getting the message out about our project and DeFi and blockchain in general to global decision makers," he said, adding that he's been meeting with regulators and "especially former regulators."
As for the rise of the CBDC, the stablecoin innovator did not seem fazed.
"Generally I think it's really good for the trend of digitizing the economy," he said. "It's just a step toward more blockchain adoption." In fact, said Christensen, DAI could one day be the liquidity backbone for CBDCs.
---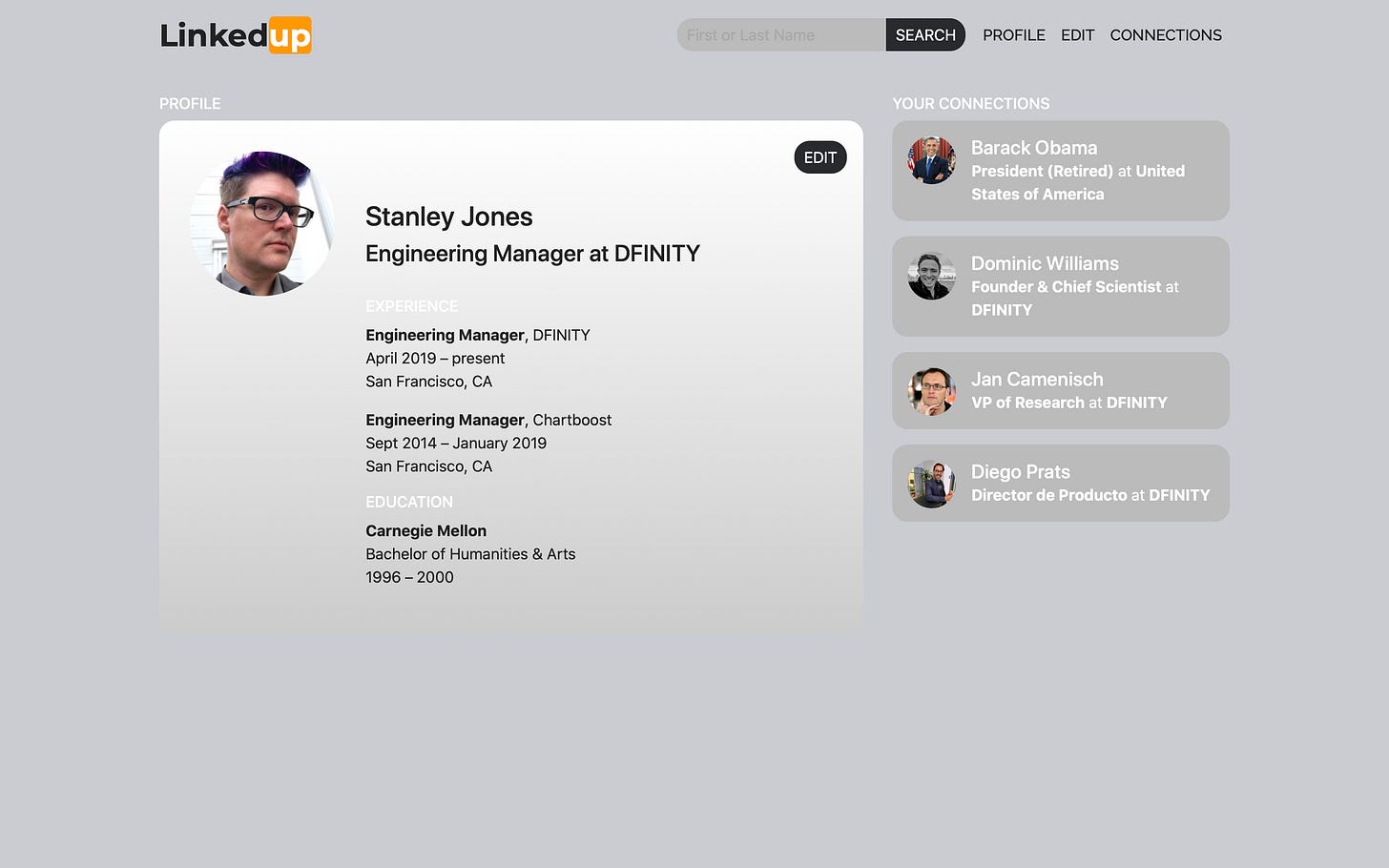 (Screenshot of LinkedUp courtesy of DFINITY)
The Andreessen Horowitz-funded DFINITY used Davos to announce a new, cheekily titled project on its forthcoming "Internet Computer" platform: LinkedUp.
The "autonomous version of LinkedIn" has no owner and is squarely aimed at making a point.
"Big tech has hijacked the internet and stifled innovation by owning the proprietary infrastructure and user relationships," DFINITY founder Dominic Williams said in a press release Thursday. "The Internet Computer provides a means to rebuild internet services in open form."
Related Viewing
Reporter Leigh Cuen gives us a behind-the-scenes peek at the Davos hustle, aka dealing with machine-gun-toting security guards and finding the next free croissant:
Seen (and Heard) on the Promenade 👀
Vignettes from the day's scrum.
Sorry, wrestling fans: The Michael Casey–Nouriel Roubini smackdown did not live up to the hype, but at least Dr. Doom liked the view:
Seems like they did get beyond Roubini's typical schtick:
If you're offering chocolates – blockchain or otherwise – to someone from Belgium, they better be excellent:
Economist Mariana Mazzucato (whom some call the world's "scariest") overhears a pithy observation:
Brazil's economy minister thinks central banks don't like blockchains because they feel threatened. Real talk, Paulo:
Who needs a gathering of world leaders when you can have a meme salon?
We think the fourth-best meme – "From me to we" – according to a ranking in a post-party note, is really underrated. Neeraj, fix this.
Thought Leaderboard
We're handing out gongs to the brainiest crypto thought leaders at Davos this year.
After five gruelling days of pondering, pontificating and proclamating, who has emerged as the most garrulous thought leader in all of Crypto Davos?
We counted Friday's events as well, and remember we started from the pre-Davos St. Moritz event, to produce the final tally. In reverse order:
Bronze medals go to these courageous talking heads who have four appearances each:
🥉PwC crypto head Henri Arslanian
🥉Former Taiwan "Crypto Congressman" Jason Hsu
🥉MIT digital currency chief Neha Narula
🥈Ex-CFTC chair, forever "Crypto Dad" and now Digital Dollar Foundation front-man Chris Giancarlo led the race but faltered at the finish line. He comes in with a haul of five talks, landing the silver.
🏆We're stunned to report that CoinDesk's very own Michael J. Casey wins gold with an astounding seven appearances. The man simply cannot be stopped.
🏅Honorary medals for Circle's Jeremy Allaire, Microsoft economist and ethereum thinker Glen Weyl, the WEF's Sheila Warren and Calibra's David Marcus for taking blockchains into the Congress Centre.
A big thank you to all who competed this year. Onward to the next fireside chat!
Who Won Davos Crypto Twitter?
The FOMO is weak with this one:
Media Diet
The world's currencies could consolidate into a handful of "continental currencies" based on political ideology and trade flows, Brazil's economy minister Paulo Guedes argued at a WEF session…
...which International Monetary Fund chief economist Gita Gopinath rebutted in the same session, judging a "low probability" of that scenario ever happening. A shift to digital payments, however, is more likely, reports Silvia Amaro for CNBC.
The Facebook-initiated Libra project has split Davos opinion over whether corporations or governments should control global digital currencies, reports Vildana Hajric for Bloomberg News.
Microsoft chief Satya Nadella believes people should consider their "data dignity" and the rights associated with them when weighing how companies treat personal information, reports Edmund Heaphy for Yahoo Finance UK. Last year, Microsoft led a decentralized identity effort built on bitcoin.
Former CFTC chair Chris Giancarlo's "digital dollar" project and CBDCs in general get a thorough airing from CNBC's Arjun Kharpal.
The global horse-trading on a tech tax continues, with U.S. Treasury Secretary Steve Mnuchin agreeing to a deal with French Finance Minister Bruno Le Maire, Reuters reports. British chancellor Sajid Javid wasn't quite so lucky, after he was threatened with American tariffs for pushing ahead on a so-called "Facebook tax."
Office of the Day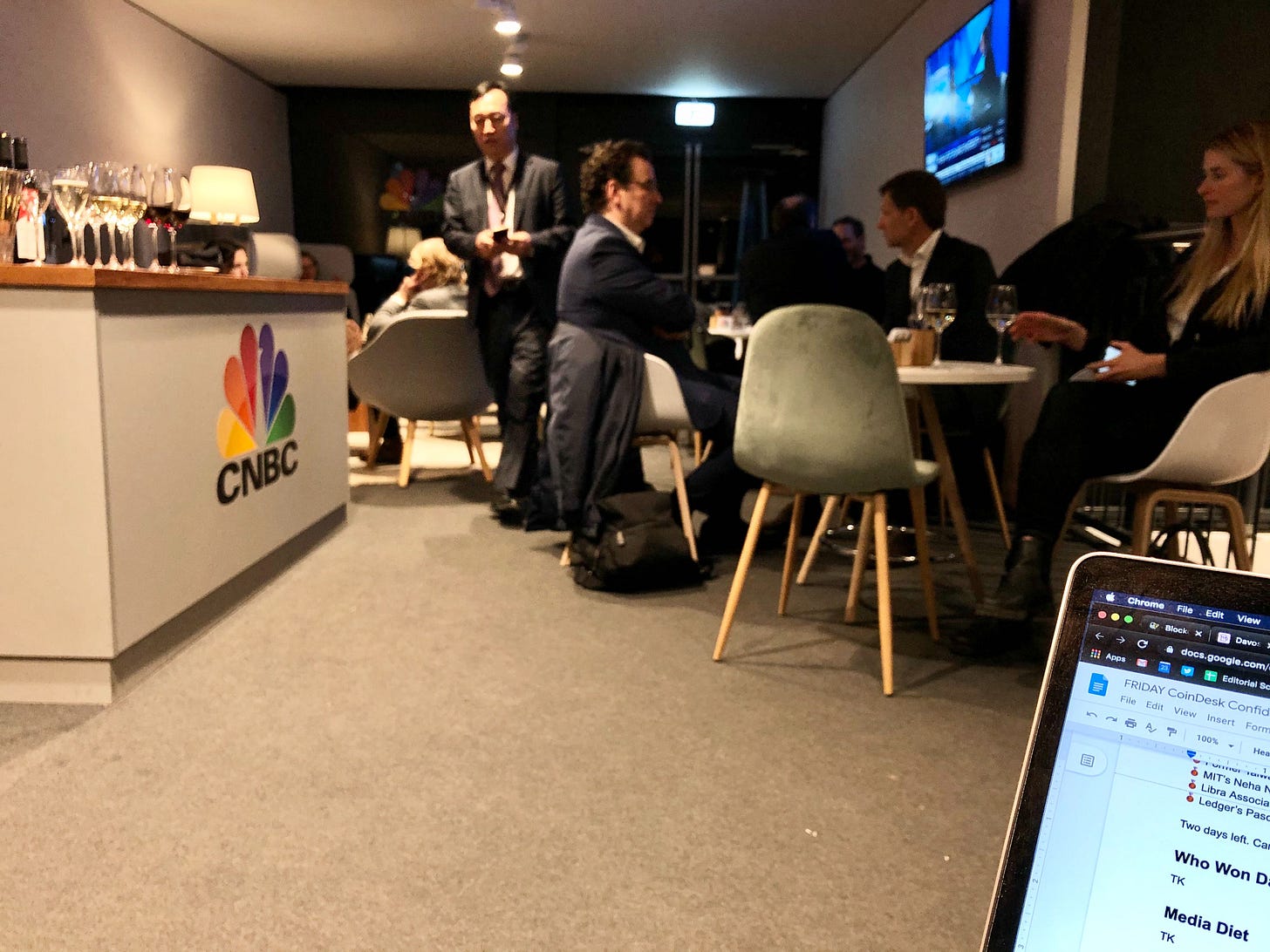 Enjoying a glass of wine at the CNBC lounge among the likes of Andrew Ross Sorkin (not pictured).
📍Pin-Drop
Find CoinDesk today at…
The sanatorium/hostel (honestly, it's a bit mysterious) we stayed at. We'll be packing our bags, getting our lives back together and networking for a few more precious minutes. That means we can go "from me to we" with the smug satisfaction that we've indeed committed to improving the state of the world.
Special Thanks
CoinDesk Confidential has truly been a team effort.
Praise to Leigh Cuen for a slew of video interviews *on top of* her excellent reporting from inside the Congress Centre. Props to Aaron Stanley for having his finger on the pulse of all the Davos events. Daps to Joanne Po and Ali Powell for producing exceptional videos on tight deadlines. A huge shoutout to CoinDesk product whiz Joon Ian Wong for late-night edits and collaboration from London. And a special mention for Michael Casey, as ever, for the thought leadership. 🏆
Contact Us
Hit "reply" or email zack@coindesk.com with your thoughts on our first-ever pop-up newsletter. Which event – physical or online – should we do next?
Till next time,
– Zack "Pavel, Show Yourself" Seward