The election is eating everything
Even your Section 230 hearings
Hey, folks. Welcome to the fourth issue of The State of Crypto: Election 2020. I'm Nikhilesh De and Nov. 3 is coming up fast.
Today's issue: Section 230 and the opportunity to replace Big Tech.

Campaign briefing
An estimated 80 million individuals have now cast their ballots, out of a registered 209 million or so, with some states seeing as many early votes in 2020 as they saw overall votes in 2016. Meanwhile, the social media platforms that were supposed to be a force for free expression have come under fire.
Earlier this week Congress held the first of several hearings around Section 230 of the Communications Decency Act, the clause that protects social media and other internet companies from being sued for content published by users on their platforms. Some elected officials feel that companies like Twitter and Facebook are taking advantage of this clause to spread disinformation or censor views they disagree with. Wednesday's hearing, held by the Senate Commerce Committee, was supposed to be a fact-finding mission to establish whether or not there is truth to these claims.
While a few questions around how tech companies are regulated and protected from certain suits made it through, the majority of the hearing ended up being a space for lawmakers to air personal grievances or argue that the hearing itself was a partisan effort to distract from Tuesday's election. What is clear is lawmakers are becoming increasingly fed up with Big Tech firms, and there probably isn't a way for Twitter to make both political parties happy.
This election matters for tech regulation, because political appointees might create policy around these issues. I have two views here: First, stakeholders, which include developers and entrepreneurs in the crypto space, should absolutely engage with the elected officials representing them on issues like these. The U.S. Department of Justice (DOJ) might not call for reforming laws to allow them a smidge more control over internet platforms if there was widespread opposition (I assume, at least. Maybe the DOJ would publish draft legislation anyway). There are opportunities for the public to weigh in on proposed legislation or rulemaking, but it depends on industry participants actually providing informed commentary and suggestions.
Second, the overreach of big tech really should create an opportunity for decentralized platforms to pick up the slack. I wrote last week that perhaps it's too early for these platforms, or maybe we just haven't built one strong enough to support real adoption. But if there's any lesson in 2020, it's that this is the year people actively look to alternatives. Last night reporter Glenn Greenwald publicly quit The Intercept and announced a new newsletter on Substack. He's not the only reporter to move to this model of journalism: He joins reporters like Casey Newton and my former colleague Leigh Cuen in doing so. Substack's an example of a young service that is easy to use. This is not true of decentralized platforms.
One final note: I've covered encryption and the U.S. government's approach to it for CoinDesk. I just wanted to highlight this bit from a Reuters piece that came out Wednesday:
In at least one instance, a foreign adversary was able to take advantage of a back door invented by U.S. intelligence, according to Juniper Networks Inc, which said in 2015 its equipment had been compromised. In a previously unreported statement to members of Congress in July seen by Reuters, Juniper said an unnamed national government had converted the mechanism first created by the NSA.
Government officials called for backdoor access to encryption, and in doing so opened the system up to their own enemies. There's a solid chance that cryptocurrency developers, like those building privacy-focused coins, might also face this sort of pressure, which would compromise the whole point of some of these projects.

Fast fact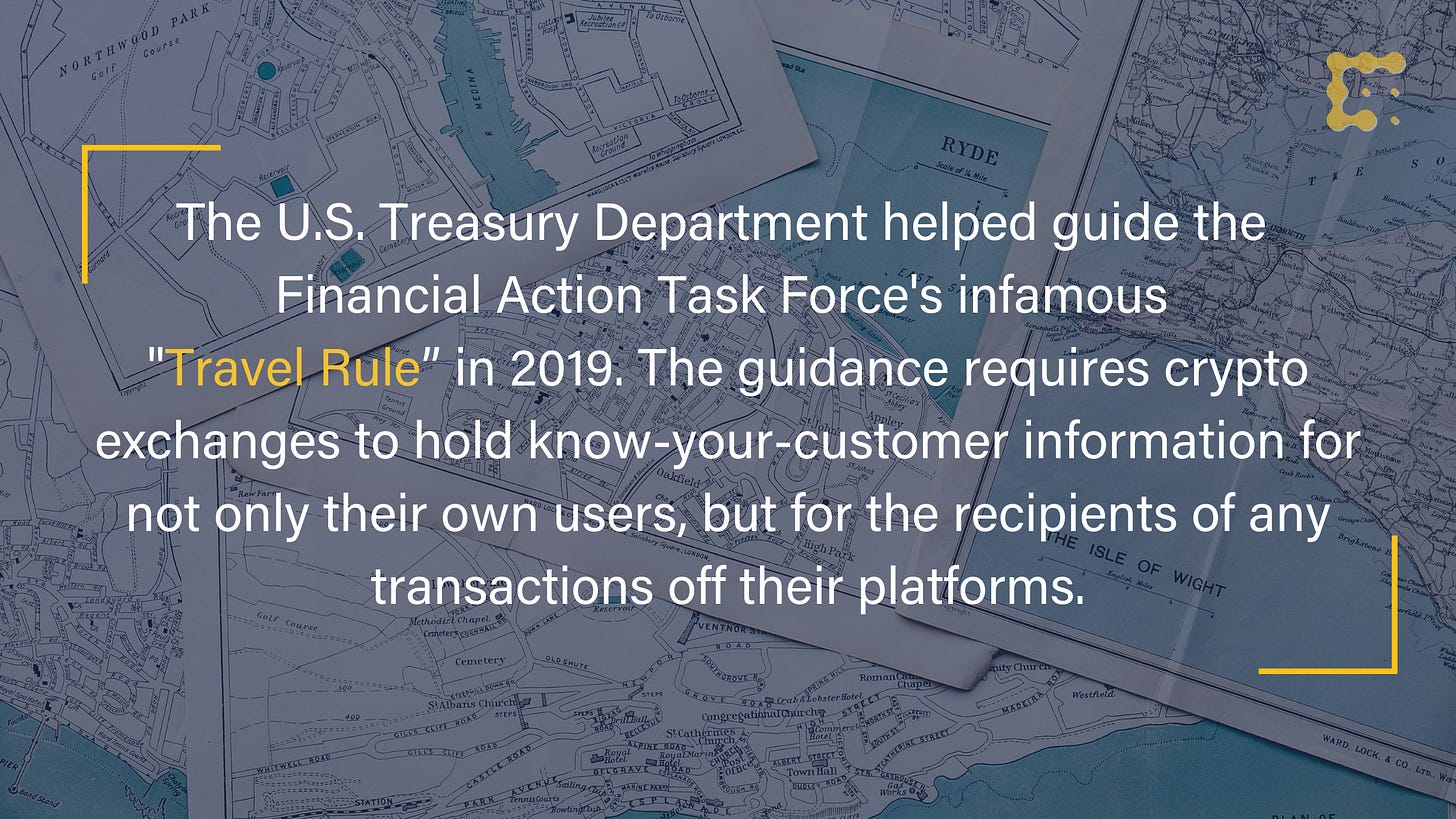 On the ballot
A number of this year's candidates for federal office have proposed crypto-related bills or suggested policies. Meet a few of them, courtesy of my colleague Sandali Handagama:
Rep. Brett Guthrie (R-KY)
Crypto stance: Pro-blockchain, introduced bills to promote blockchain adoption
Rep. Guthrie, a sixth-term congressman, introduced the Blockchain Promotion Act of 2018 with Rep. Doris Matsui. The bill called for the creation of a working group to study the technology, and create a common definition for government purposes. In 2020, the congressman introduced HB6938, a bill to survey the prevalence of blockchain technology across industries and governments globally, with the goal of setting up a national blockchain strategy.
Rep. Josh Gottheimer (D-NJ)
Crypto stance: Pro-blockchain, co-sponsored the Token Taxonomy Act
Rep. Gottheimer, a second-term congressman, co-sponsored the Token Taxonomy Act – which would exempt tokens from U.S. securities law.It was reintroduced to Congress in 2019, after it did not leave committee in 2018. He is a member of the House Financial Services Committee's Fintech Task Force, and was among the group of lawmakers who signed a bipartisan letter to Trump advisor Larry Kudlow asking him to include blockchain in the administration's initiatives for emerging technologies.
Rep. Lance Gooden (R-TX)
Crypto stance: Pro-blockchain, introduced bill to clarify status of crypto assets under securities law
Rep. Gooden, a first-term congressman, was among the lawmakers that called for the IRS to clarify tax laws as they apply to crypto assets, airdrops and forks in 2019. Rep. Gooden and Rep. Sylvia Garcia introduced the Managed Stablecoins are Securities Act of 2019, aimed at classifying actively-managed stablecoins like the Facebook-sponsored Libra as securities and establishing oversight under existing securities laws.
Rep. Bill Foster (D-IL)
Crypto stance: Pro-blockchain, CBDC proponent
Rep. Foster, a fifth-term congressman, is co-chair of the Congressional Blockchain Caucus. Along with Rep. French Hill, Foster urged the Federal Reserve to consider the creation of a central bank digital currency in a 2019 letter to Chair Jerome Powell. The same year, he was among the lawmakers who called for clarity on crypto taxation. In the past he's advocated for creating secure digital identity tools and predicted in 2018 that a central bank issuing its own cryptocurrency could impact the U.S. dollar's status as a global reserve currency.
Rep. Doris Matsui (D-CA)
Crypto stance: Pro-blockchain, introduced bill to define blockchain technology for government purposes
Rep. Matsui, fourth-term congresswoman, introduced the Blockchain Promotion Act of 2019 with Rep. Guthrie in 2018, aimed at defining blockchain technology by creating a working group to research the space. With Reps. Guthrie and Darren Soto, she also introduced the Blockchain Innovation Act, calling for the assembly of a report on the state of blockchain technology in consumer protection and other areas.At a 2018 congressional committee hearing, Rep. Matsui asked Twitter CEO Jack Dorsey to explain the potential applications of blockchain, citing his interest in the technology.

Early returns
Prediction markets are an effort to create better polling by ensuring participants have "skin in the game," by asking them to actually bet money on the outcome of an event, such as an election. There isn't a huge market, as my colleagues Benjamin Powers and Brady Dale wrote last month. But people are betting real money, either on centralized prediction markets or on decentralized platforms using tokens.
CoinDesk is monitoring crypto prediction markets to see how they align with traditional polls and the final election results.
Here's what a random sampling of markets says (as of Oct. 29, 2020):
Centralized markets:
PredictIt: Joe Biden (D) has the best odds of winning the presidency.
Iowa Electronic Markets: Democrats are likely to receive the majority of the popular votes.
Decentralized markets:
Polymarket: Donald Trump (R) will not win the 2020 U.S. presidential election
Augur: Donald Trump (R) will not be re-elected in 2020.
Neutral polling:
FiveThirtyEight: Biden is favored to win the presidential election.
Sounding board
Feel free to reply any time or email social@coindesk.com or nik@coindesk.com.
Between reads, chat with us on Telegram.